Shantae: Half-Genie Hero
is a Kickstarter-funded multiplatform console game. It was released on Wii U, PS4, PS Vita, Xbox One and Steam (Windows PC) on December 20, 2016. A Nintendo Switch port was also released in 2017. The game is the fourth entry in the
Shantae series
, after
Shantae
,
Shantae: Risky's Revenge
and
Shantae and the Pirate's Curse
.
The game was crowdfunded on Kickstarter from September 2013 to October 2013, but donations were still possible via PayPal on WayForward's official website, and closed on December 16, 2014. The game was originally slated for an October 2014 release, but it was delayed to account for development of the stretch goal rewards. The game was set to be released on September 27th, 2016, but was postponed by "6 weeks give or take", and instead released on December 20th worldwide.[1] It was given a simultaneous digital and physical release on PlayStation 4, PlayStation Vita and Wii U, handled by XSeed Games [2]
Story
The game takes place after the good ending to Shantae and 'The Pirate's Curse.
Shantae is roused from a deep sleep, suddenly alert. She plunges into the moonlit forest in search of answers. In nearby Scuttle Town she goes to her uncle's home and discovers a mysterious trapdoor. She decides to see where it will lead to and discovers a luminous subterranean cavern. A familiar voice calls out, drawing Shantae to a beautiful fountain. Touching its waters she is immediately spirited away to the fabled Genie Realm. At her feet a magical seal swells as some powerful evil seeks escape. The chamber trembles with a deep, bellowing roar and a light emits from Shantae as everything goes white. Shantae sits upright, back in her bed. Was it just a dream? Or a vision of things to come?
Chapters
There were five chapters available at initial launch.
Sequins of Unfortunate Events!
Fire and Forget!
Gameplay
Endings
Depending on the player's actions throughout the game, one of two endings can be achieved.
Good Ending: If Shantae gathers clues about Risky's plan, she'll get a Magical Polarizer, which will undo Tinkerbrain's damage and save the Genie Realm. The messenger will appear, telling Shantae that the Genies are proud of her and her mother is still alive.
Bad Ending: If Shantae decides to go directly against Risky, the Genie Realm is destroyed by Shantae.
Stretch Goals
Features in the game if certain amount of funding, via Kickstarter and/or Paypal, is reached.
Stretch Goals
Name
Type
Description
Amount
Status
Risky Mode
Game Modes
Play as Risky Boots with her own story and abilities.
$500K
Funded
Sequins of Unfortunate Events!
Bonus Chapter
Mystery and new location. Additional chapter and transformation.
$600K
Funded
Costume Swap
Gameplay Addition
Replay the adventure with re-balanced stats and special moves.
$700K
Funded
Fire and Forget!
Bonus Chapter
New character, mystery, and new location. Additional chapter and transformation.
$800K
Funded
Hero Modes
Game Modes
Play as Rottytops, Bolo, and Sky with their own stories and abilities.
$900K
Funded
A Dish Served Cold!
Bonus Chapter
Return of Nega-Shantae! Additional chapter and transformation.
$1M
Not

funded

Voices
Additional Feature
Full voice acting for all modes. English with subtitles translated for multiple languages.
$1.1M
Not funded
Clockwork Night!
Bonus Chapter
Risky reformed(?), new location, new threat. Additional chapter and transformation.
$1.2M
Not funded
Animated Cutscenes
Additional Feature
High TV quality, fully animated cutscenes with voice overs and music.
$1.3M
Not funded
Kickstarter funding ended on October 4, 2013, while Paypal funding ended on December 16, 2014, with a total of $947,937.[3] Risky Mode became Pirate Queen's Quest, while the Hero Modes became Friends to the End. WayForward has stated that the unfounded features will probably never be implemented, although they hadn't close the door to the possibility of downloadable content if the game sells well.[4] It is unknown if it ever did.
Music
The music for Shantae: Half-Genie Hero was, like for the other episodes, composed by Jake "Virt" Kaufman. The theme song for the Kickstarter campaign for the game was Dance Through the Danger with vocals by Cristina Vee.
The digital soundtrack will be provided as a reward along with the game to backers with pledges at or above $25.
A physical soundtrack called Risky Beats comes with the physical release of the game.
Reception
TBA for now.
Credits
The confirmed crew on the game so far is as follows:
Media
Videos
Gallery
Trivia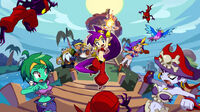 The original key art had Shantae paler than her previous games. The trailer also showed her to be paler. Matt Bozon explains in an interview (found here: http://www.youtube.com/watch?v=PDQUa_96N7E ) that the trailer's portrayal was due to a mistake caused by the lighting engine they were using, which carried over to the promotional materials.
This is the first and currently only Shantae game to be rated T for Teen by the ESRB for reasons currently unknown. The other four were rated either E (in the case of the first game) or E10+ (in the case of Risky's Revenge, The Pirate's Curse and Seven Sirens).
This is the first Shantae game depicting Sky as a rude smart*** instead of a likeable mentor.
References
Links
Community content is available under
CC-BY-SA
unless otherwise noted.