Shantae is a 2D platform video game developed by WayForward Technologies for the Game Boy Color. Capcom[1] published and distributed the game exclusively in North America on June 2, 2002. It was designed by Matt Bozon and is the first game in the Shantae series. It also showed support as playing the game with a GBA adds "enhancements" to the game.
The game fell into obscurity due to it being released around the time the Game Boy Advance was launched. Despite this, it received strong reviews and has gained recognition since it's release. It's also been featured on multiple lists of best games on the platform, and being called a "cult classic" by some reviewers. The game was made available on the Nintendo 3DS Virtual Console in North America, Europe, and Australia on July 18, 2013.
There were several aborted sequel projects for Shantae, including Shantae Advance (also called Risky Revolution) or Shantae: Risky Waters. The next game in the series was ultimately Shantae: Risky's Revenge (2010), which was followed up by Shantae and the Pirate's Curse (2014), Shantae: Half-Genie Hero (2016), and Shantae and the Seven Sirens (2019).
Plot
From the official website:
Have you ever heard of Sequin Land? It was once a magical place, protected from monsters and mishaps by beautiful Guardian Genies. Their heroism won long years of peace, during which many of the genies fell in love with mortal men. The resulting offspring were all girls, seemingly human but with a trace of magical power, often lying dormant or manifesting in unusual ways. Thus half-genies came into the world.
Sadly, as the ages passed large numbers of Guardian Genies began to disappear from Sequin Land until not one remained. Many folks imagined that they had been captured inside bottles, while others believed that the genies had returned to their own realm. With the guardians gone, Sequin Land began to fall prey to evil.
In spite of their lack of skills, the daughters of the Genies made a decision to pool their powers and stand against evil as best they could. Few and far between, these half-genies traveled the land, each choosing a kingdom to guard until peace could be won again. As they struggle to keep the peace, new villains emerge and ancient foes return to wreak havoc on Sequin Land. Is this newest generation of Guardian Genies up to the challenge?
The game's story focuses on a young "half-genie" by the name of Shantae. Having been appointed as the Guardian Genie of a small fishing town, Shantae's life is fairly quiet. That quickly changes when a gang of pirates, led by the sinister Risky Boots, attacks the town and steals a prototype steam engine from the town's resident Relic Hunter, Mimic.
Shantae soon finds herself traveling far and wide across Sequin Land, determined to retrieve the steam engine and foil Risky's wicked plan.
Characters
Shantae - The title heroine, a young half-genie charged with protecting the fishing port of Scuttle Town. Young and somewhat naïve, Shantae's strong sense of justice nonetheless propels her into action. Her main form of offense is using her magically endowed ponytail as a crude whip. In addition, she is capable of transforming into various creatures (a monkey, an elephant, a spider and a harpy) via the use of magical dances. Having failed to protect Scuttle Town from Risky Boots, Shantae finds herself obligated to find Risky and get the stolen steam engine back.
Risky Boots - The nefarious lady-pirate Risky Boots is known throughout Sequin Land for her love of wealth, power, and all shiny things. Risky is unchallenged on the Seven Seas, and as its self-appointed queen will caution and toll anyone to think otherwise. Risky is a villain with the skills and luck usually reserved for the good guys. Capable, dominating, and deadly, Risky isn't afraid to claim what's not hers. She commands an endless army of Tinkerbats who follow her orders without question, building her weapons of war and scavenging the resources that make her schemes become reality.
Tinkerbats - Tinkerbats are Risky's silent shadow army. Individually they are not very formidable in battle, and therefore tend to huddle in groups of 3 or more. They are intelligent and skillful, yet skittish and non-communicative. Their loyalty knows no bounds, and like drones serving a queen they act as an extension of Risky's will. Where Risky harvests her Tinkerbats is unknown.
Mimic - Old Uncle Mimic is one of the Relic Hunters... a consortium of explorers that attempt to advance the future by excavating secrets of the past. Mimic is the closest thing Shantae has to a family. He lives in his workshop in Scuttle Town, where he houses hundreds of ancient objects. Since townsfolk tend to be skeptical and stand-offish to Relic Hunters (and genies), he and Shantae make a great pair. Shantae makes Mimic her project, and refuses to let him grow old, sloppy, or comfortable. Although she can get on his nerves at times, Mimic genuinely loves Shantae and strives to keep her safe. Although Shantae has no idea, Mimic is a retired hero of days long gone and still contains dormant skills that could awaken if provoked.
Rottytops - Rotty is a free spirit... friendly, energetic and headstrong. However, she is also extremely untrustworthy, crafty, and manipulative. She loves ruffling people's feathers or guiding then down the wrong path. She's a tease and a shameless flirt on a near-criminal level, and her scruples know no boundaries. As a family member in a Zombie Clan, Rotty travels the land by caravan gaining worldly skills and threatening to eat people's brains. She has two nasty brothers that seem capable of bringing out the worst in her whenever they're all together. Rotty is obsessed with Shantae, and the challenge of corrupting her pure nature.
Bolo - Shantae's sparring partner is a slow-witted knucklehead with a serious lack of reasoning skills. He's hardly awake until he springs into action... usually at the chance to be a hero... and begins twirling his bolo balls. As a fighter, Bolo is very efficient and skillful, as though these moments of competence are sustained by his regular state of mental hibernation. Bolo has eyes for Risky Boots and nearly anything else remotely female, although a brotherly comfort level keeps Shantae outside his level of vision. Bolo is commonly used as a punching bag or stool pigeon by Rotty, Sky, and Shantae. Mimic often uses Bolo as an errand boy, which given his single track mind works fairly well.
Sky - Shantae's life-long friend and ally, Sky is a war bird trainer whose profitable egg hunts often span the known reaches of Sequin Land. Sky can't wait for Shantae to see more of the world and life's surprises, and seems to be in a hurry to grow up. Sky is a sort of desert rat, always nesting in out of the way places at length. For this reason, Shantae and Sky have tend to have more unexpected reunions than they do planned visits. Even apart, their friendship is a strong one, and Sky's opinions hold equal value to Uncle Mimic's in Shantae's mind. Sky keeps a war bird named Wrench, and she is rarely seen without him. Wrench is a dangerous weapon, and is totally reliable, even following Shantae's orders. For some reason, Wrench regards Bolo as prey, and takes every opportunity to prove it.

Development
Creation of the main character
The original concept of Shantae was born in the year 1994, when Erin Bell created a female character while coming back from her camp counselor days. She named her Shantae after one of the campers. She also imagined she could use dances to summon animals to help her in her adventures. Matt Bozon liked the idea and picked up the character to flesh out her mythology and powers. Matt has mentioned two different stories about how he came up with the idea of the Hair Whip, Shantae's signature move; the first was that Erin sported her hair very long at the time and would frequently hit Matt in the face when turning around[2] and the other was that Erin herself thought about it first.[3]
Development of the game
The game's development started in the second half of the year 1996. Thanks to further research in the internet, an archived version of the original WayFoward website from the year 1997 was found with a lot of information about the original Shantae video game which was originally designed for platforms like N64; Matt Bozon himself precised in an interview that the game was originally pitched with Erin and veteran programmer Jimmy Huey as a SNES and Turbografx-16 game.[4]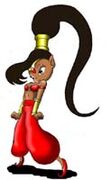 Shantae's appearance was different compared to the version we know today, she had brown hair and her suit was slightly different, but the gameplay was going to be the same. She was originally a troubled genie, born without magic, yet the only individual capable of saving the realm from disaster.[5]
Little is known if a playable prototype for that platform was ever created. While screenshots can be found in the website's archive, they are basically conceptual mock-ups.
According to the old website, magic worked on a point system. At the beginning of the game, Shantae's Magic Points are at zero. Throughout the game she can gather and save them up then spend them whenever she needs to summon help. Once activated, several magic points are depleted, and the power-up takes effect. Every time she defeated a boss, she gained a new Magical Ability such as Transformation.
Unlike the released Game Boy Color version, Shantae used dancing to attack enemies directly instead of transforming into animals. The following Dance Attacks were going to be available:
Earth Dance: Boulders rain from above, wiping out any enemies they hit.
Water Dance: A wave washes all smaller enemies off the screen.
Wind Dance: A frigid blast temporarily turns enemies to ice.
Fire Dance: A blast of fire shoots out from Shantae's position, igniting enemies.
Magic Dance: All enemies on the screen become magic points.
Different outfits were also designed as power-ups for Shantae, like a defense suit, an attack suit, and a fire suit. Animals were also featured in at the time, following Erin's vision of animals being summoned by magic.
Although at the time, the game was planned for systems such as N64, PlayStation or SNES,[6] it finally ended up on Game Boy Color because it needed a smaller team to work on, according to WayForward's boss Voldi Way. The game reused a graphics engine already used by WayForward for Xtreme Sports and the Sabrina games, which was created by Jimmy Huey. Most of the animation for the game was done in the first four months of development, and Huey designed a tool for art capture which allowed to transfer them on the screen.[7]
Finding a publisher
WayForward had trouble finding a publisher for the game. The game needed a special cartridge to allow its impressive graphical prowesses, which was expensive to produce,[8] and it was also sometimes considered that it was too risky to launch a new IP. Finally, Capcom picked up the game for release but held it for eight months, so the Game Boy Advance had time to take off. When WayForward saw how dark the console's screen was, they decided to work some more on the game to implement a device in order to brighten up the colors when played on a Game Boy Advance, and also added a bonus transformation.[9]
Music
The music was composed by Jake Kaufman. The music of the game was originally produced with the Musyx tool,[7] but in the end the used tool to produce music was the Paragon 5 GameBoy Tracker. Paragon 5's boss, Paul Bragiel, served as music producer and the tracker's developer, Stephane Hockenhull, worked on music replay. The entire original soundtrack was released for free on Big Lion Music's blog on August 4, 2001.[10]
Inspiration and Homages
The Shantae games, especially the original, play much like classic platform RPGs of the NES, SNES, Sega Master System and NEC PC Engine/TurboGrafx-16 such as but not limited to; Zelda II: Adventure of Link, Castlevania II: Simon's Quest, Kid Icarus, Metroid, Monster World IV, Battle of Olympus etc. While the game is often described as a metroidvania, it resembles games other than Metroid and Castlevania that inspired that term.
Here is a list of influences from and homages to other games:
The dungeons that are labyrinths with locked doors and keys that must be found, and containing a new item/ability and a boss guarding some sort of plot-critical magic item is similar to Zelda games.
Giving plot-critical magical artifacts goofy names like "Dribble Stone" could be seen as a parody of magic elemental jewels and such you have to collect in so many other games.
The hunt for rare heart containers is reminiscent to the very first Zelda game, before the piece of heart was first implemented in the series as first seen in A Link To The Past, Link's Awakening, Ocarina of Time, etc.
In the original Shantae, there are infinity-respawning snakes that fall out of holes in groups of four. They are almost identical to the snakes in Kid Icarus and are probably an intentional reference.
The bath houses of the original Shantae resemble the hot springs of Kid Icarus as well.
The day-night cycle in the game is based on the one used in Castlevania II: Simon's Quest. To further the similarities, the enemies take more hits to defeat.
Reception and Legacy
Critical reception
IGN gave the game a 9 out of 10, calling it a "wonderful platform adventure".[11] GameSpot scored it a 7.7 out of 10, claiming it to be a "fine example" of a portable platformer.[12] GamesRadar listed Shantae as one of the titles they want in the 3DS Virtual Console. The game was called the 15th best Game Boy game (out of 25) by Game Informer[13] and the 7th best Game Boy Color game by the Complex website.[14]
Initial discontinuation and re-release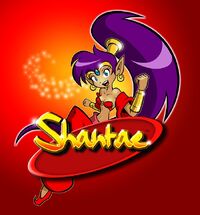 The Game Boy Color games Capcom published, including Shantae, had gone out of stock around September-October 2004.[15]
Shantae was re-released digitally worldwide via the Nintendo 3DS Virtual Console by WayForward on July 18, 2013. The "Distributed by Capcom" screen was removed and the Game Boy Advance enhancements were not available.
On April 22, 2021, a Switch port of Shantae was released by Limited Run Games. This version contains a "GBA Enhanced" mode that restores the Game Boy Advance enhancements, and adds an "Extras" gallery that has various pieces of concept art, sprite sheets, and sketches. The "distributed by Capcom" screen is once again removed, as is the "licensed by Nintendo" screen. Limited Run Games also released reproduction carts of the original Game Boy Color version.
Sequels
A Shantae sequel was planned for the Game Boy Advance, and proposed screens resemble a port with updated graphics. It is assumed to have been canceled. As with the original game, Shantae Advance (a.k.a Shantae 2:Risky Revolution) was developed by Matt Bozon on his own time.
In early 2004, after Nintendo announced the Nintendo DS dual-screen feature, WayForward began work on a new attempt at a Shantae sequel tentatively titled Shantae: Risky Waters, producing a 13-page draft on the subject. The game featured experimental gameplay, for instance rafting in 3D on the upper screen while controlling a bird flying over the river, in 2D, on the lower screen; or characters fighting on the upper screen while digging caves on the lower one. However, the game was cancelled for the same reasons as Shantae Advance, as WayForward did not find a publisher for it.
On September 15, 2009, a sequel titled Shantae: Risky's Revenge was revealed as a downloadable DSiWare title on Nintendo of America's 2009 Holiday lineup, with a tentative 2009 Q4 release date.[16] Details on the 3-part episodic sequels were revealed in the November 2009 issue of Nintendo Power.[17] However, plans for the episodic release were cancelled, and the game was instead released as a standalone DSiWare title on October 4, 2010.[18] The game was later ported to iOS.A Director's Cut edition was released on Steam for Windows on July 15, 2014,after being Greenlit by fans.The Director's Cut edition was later ported to PlayStation 4 and Wii U,with the PlayStation 4 release of Director's Cut,along with Shantae and the Pirate's Curse, getting a physical release done and sold by Limited Run Games for a limited time in October 2016 with reversible cover art.
The third game, Shantae and the Pirate's Curse, was released on October 23 2014 for the Nintendo 3DS eShop. It was later ported to other systems such as Wii U,(through the Nintendo eShop),PlayStation 4(through the PlayStation Store),Xbox One(through the Xbox Store),and Steam for Windows.The PlayStation 4 release of Shantae and the Pirate's Curse,along with the Director's Cut edition of Shantae :Risky's Revenge,got a physical release done and sold by Limited Run Games for a limited time in October 2016 with reversible cover art.
A fourth game, Shantae: Half-Genie Hero, was released on December 21 2016, both as digital download and physical copies, the latter being published by XSeed Games on Wii U*,Nintendo Switch(through the Nintendo eShop),PlayStation 4*,PlayStation Vita(through the PlayStation Store),Xbox One(through the Xbox Store), and Steam for Windows. The game was funded through Kickstarter, but still received additional fundings through PayPal on WayForward's official website until December 2014. If not counting the LRG release of Shantae and the Pirate's Curse, this is the first T-rated Shantae game.
*Console got physical release of the game
A fifth game, Shantae and the Seven Sirens, was released on May 28, 2020, in the form of an E10+-rated digital download for Nintendo Switch, PlayStation 4, Xbox One and Steam for Windows. A T-rated physical copy was released for Switch and PS4 by Limited Run Games in July, forcing the digital download to get a T rating as well.
Reproductions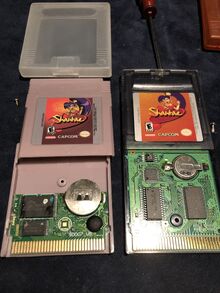 Thirteen years after it's initial release, reproduction copies have made their way into the market. Only two variation cartridges have been made, Grey and Red.
A huge noticeable difference between the two is that the reproduction uses a smaller motherboard housing for the chips and battery to be made.
The Reproduction uses SPI flash memory chip made by Spansion that can hold from 4 mb to 1 gb data, while the original uses an MX Chip which holds a 4 Mb - 8mb of data.
Manufacturing and interior structure
By the year 2000, The price for manufacturing a Rom cartridge became expensive as it rose from it's original price to $1.50 (USD).
The rise in ROM cartridge's increase due to many factors, but given one of those reasons is a widely popular game that was introduced recently in 1996.
The game needed a 32 megabit battery backed-up cartridge to work properly, but some measures were needed to ensure this would work, without it, the game would not load properly and would encountery many problems.
Shantae Cartridge Interior
Components
What it do
What it does for Gameplay
16m/32m/64m-Rom

This is the information where how much megabits the game can obtain up to.

16megabit is the equivalent to 2megabytes.

Shantae complete rom is about 4 MB

MX chip
= The Logic ICs (Integrated Circuits) =
Where the Game Data information is stored.
64K-SRAM RAM
This memory chip are used to store the user's information and game advances or profiles, to save this information when power is off it uses a battery mounted inside the cartridge.
Game Saves, profile saves
MM1134A
Battery backed ram controller
Battery backed memory has an internal lithium power source and a self-contained control circuitry which constantly monitors VCC(voltage at the common collector) for any out-of-tolerance conditions. If such a condition happens,the battery will automatically switch on and the memory's write protection is enabled to prevent data corruption.
Battery CR1616
Houses the Battery
Storing the Games Information's Lifespan
MBC5
can access up to 64Mbits(8MBytes) ROM / 1Mbit (128KB) RAM
This is where the Mapper takes place

This chip improves the battery back up, increase color definitions, partial screen scrolling, and can also allow vertical split screen scroll ( a side bar of information on the bottom while having the character move around). With this processor, Previous games can have up to 4 different colors, shantae can hold 4 color areas with 16 different outcome of colors.
​​​​So far only 20–25,000 copies are rumored to be made, givin the fact that matt stated "it is incredibly expensive to produce", it may have costed the company roughly $30,000 - $37,500(USD).
Credits
From the game's manual and opening
| Role | Name |
| --- | --- |
| Art | Matt Bozon |
| Production Artist | Cole Phillips |
| Manual | Hanshaw Ink & Image |
| Manual Art | Matt Bozon |
| Marketing | Todd Thorson, Sean Mylett, Bonnie Scott, Robert Johnson, Nate Williams |
| Creative Services | Jennifer Deauville, Marion Clifford |
| Package Design | Michi Morita, Jamie Gibson |
| Public Relations | Melinda Mongelluzzo, Matt Atwood, Carrie Root |
| Graphics engine | Ministry of Thought |
From the game's ending credits
| Role | Name |
| --- | --- |
| Created by | Matt & Erin Bozon |
| Developed by | WayForward Pocket Team |
| Executive Producer | Voldi Way |
| Producer | John Beck |
| Programmed by | Jimmy Huey |
| Design, direction, art & animation | Matt Bozon |
| Production Manager | Shereef Morse |
| Character animation, level design, BG & story | Matt Bozon |
| Additional character animation | Erin Bozon, Luke Brookshier, Debbi Brookshier |
| Story editors | Rob Buchanan, Jeff Clark |
| Sprite capture | Cole Phillips, Palo Porazik, Paul-Z Kite |
| Additional programming | Larry Holdaway, Michael Stragey |
| Music & music engine provided by | Paragon 5 |
| Music Producer | Paul Bragiel |
| Music replay | Stephane Hockenhull (miscredited as Stephanie Hockenhull)[19] |
| Music composition | Jake Kaufman |
| Lead testers | John Wasiel, Palo Porazik |
| Play testers | Mark Bozon, Robert Tuohy, Aric McGhee, Brook Chalmers, Amy Kong, Abby Goldsmith, Maley family, Prestin family, Utley family, Paul-Z Kite, Mikey Morse |
Glitches
See Glitches (Shantae series)#Shantae for a list of glitches detected in this game.
Videos
 	 	   

Gallery
Trivia
References