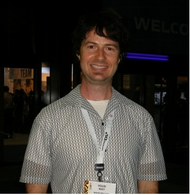 Voldi Way (born March 1, 1970) is WayForward Technologies' founder and current "Tyrannical Overlord".[1]
Youth, studies and beginnings
Voldi Way was born at home and was home educated until about 11, then attended Orange Coast College, and after that Costa Mesa High School.[2]
Voldi Way had a brief experience as a child actor, appearing as Joseph Carmichael in The Changeling in 1980.[3] He made a tribute to this role as a cameo in the movie Boo in 2005.[4]
He co-founded a software company before WayForward Technologies, at the age of 14. The softwares were aimed at sheet metal fabrication.[5]
Career with WayForward Technologies
Voldi Way founded WayForward Technologies in 1990, using the money he made by selling his parts in his previous company to his partners.[6][7]
He is credited as Executive producer for the first Shantae game, and simply as "Tyrannical overlord", his semi-official title at WayForward, for Shantae: Risky's Revenge.
Works
This is a list of projects Voldi Way was involved in according to Moby Games and a google search over allgame.com (unless otherwise indicated).[8][9]
Films (acting)
The Changeling - The ghost of Joseph Carmichael (1980)
Boo - Joseph Carmichael (2005)
Audio
Mickey's Ultimate Challenge - sound (1993 or 1994)
Programming
Mickey's Ultimate Challenge - programming (1993 or 1994)
Pyst - programming (1996)
Star Warped - programming (1997)
Tak: The Great Juju Challenge - additional programming (2005)
Production
Casper Animated Activity Center - producer (1998)
FunPack 3D - executive producer (1998)
Xtreme Sports - executive producer (2000)
WWF Betrayal - executive producer (2001)
Shantae - executive producer (2002)
The Scorpion King: Sword of Osiris - executive producer (2002)
Godzilla: Domination! - executive producer (2002)
Rescue Heroes: Billy Blazes - executive producer (2003)
Credits as WayForward boss
Jim Henson's Bear in the Big Blue House: Bear's Sense of Adventure - president (1999)
Berenstain Bears: When Little Bears Are Scaredy Bears - Tyrannical Overlord (1999)
GAMES Interactive 2 - Tyrannical Overlord (2000)
Pearl Harbor: Defend the Fleet - Tyrannical Overlord (2001)
Wendy: Every Witch Way - president (2001)
Pacific Gunner - Tyrannical Warlord (2002)
Ping Pals - Tyrannical Overlord (2004)
The SpongeBob SquarePants Movie - Tyrannical Overlord (2004)
SpongeBob SquarePants: Lights, Camera, Pants! - Tyrannical Overlord (2005)
Sigma Star Saga - Tyrannical Overlord (2005)
Tak: The Great Juju Challenge - Tyrannical Overlord (2005)
Barbie in the 12 Dancing Princesses - Tyrannical Overlord (2006)
X-Men: The Official Game - Tyrannical Overlord (2006)
SpongeBob SquarePants: Creature From the Krusty Krab - Tyrannical Overlord (2006)
Justice League Heroes: The Flash - Tyrannical Overlord (2006)
American Dragon: Jake Long – Attack of the Dark Dragon - Tyrannical Overlord (2006)
American Dragon: Jake Long – Rise of the Huntsclan - Tyrannical Overlord (2006)
Unfabulous - Tyrannical Overlord (2006)
Contra 4 - Tyrannical Overlord (2007)
Looney Tunes: Duck Amuck - Tyrannical Overlord (2007)
Space Chimps - Tyrannical Overlord (2008)
LIT - Tyrannical Overlord (2009)
Mighty Flip Champs! - Tyrannical Overlord (2009)
A Boy and His Blob - Tyrannical Overlord (2009)
Where the Wild Things Are - Tyrannical Overlord (2009)
Batman: The Brave and the Bold - The Videogame - Tyrannical Overlord (2010)
Galactic Taz Ball - Tyrannical Overlord (2010)
Shantae: Risky's Revenge - Tyrannical Overlord (2010)
Thor: God of Thunder - Tyrannical Overlord (2011)
Mighty Milky Way! - Tyrannical Overlord (2011)
Mighty Flip Champs! DX - Tyrannical Overlord (2011)
Mighty Switch Force! - Tyrannical Overlord (2011)
Double Dragon Neon - Tyrannical Overlord (2012)
Silent Hill: Book of Memories - Tyrannical Overlord (2012)
Adventure Time: Hey Ice King! Why'd You Steal Our Garbage?! - Tyrannical Overlord (2012)
Mighty Switch Force! Hyper Drive Edition - Tyrannical Overlord (2012)
DuckTales: Remastered - Tyrannical Overlord (2013)
Adventure Time: Explore the Dungeon Because I DON'T KNOW! - Tyrannical Overlord (2013)
Mighty Switch Force! 2 - Tyrannical Overlord (2013)
Transformers: Rise of the Dark Spark - Tyrannical Overlord (2014)
Shantae and the Pirate's Curse - Tyrannical Overlord (2014)
Adventure Time: The Secret of the Nameless Kingdom - Tyrannical Overlord (2014)
Teenage Mutant Ninja Turtles: Danger of the Ooze - Tyrannical Overlord (2014)
Wonder Momo: Typhoon Booster - Tyrannical Overlord (2014)
Mighty Switch Force! Hose It Down! - Tyrannical Overlord (2015)
Adventure Time: Puzzle Quest - Tyrannical Overlord (2015)
Goosebumps: The Game - Tyrannical Overlord (2015)
Mighty Switch Force! Academy - Tyrannical Overlord (2015)
Descendants - Tyrannical Overlord (2015)
Gallery
References
External links