| | |
| --- | --- |
| | This jar is half empty! This article is a stub. You can help Shantae Wiki by expanding it. |
The Water Lily Siren, also known as the Sunbathing Seawead, is one of the Seven Sirens who resides in Water Lily's Den. As of May 28, 2020, her first appearance is in a cutscene where she wakes up upon being disturbed. Despite her magnificent charismatic looks, she resembles Giga Mermaid, but in a hybrid form of a water dryad "Nymphaeaceae" ( Water-lily). 
Personality
This siren has a whimsical personality with a slight tease of mischief. She often strikes her targets with two types of Seed-Saplings:
Green to summon miniature walking fly-traps.
Red to summon large pillars thorns.
If she gets very riled up, she could conjure a spell to summon massive pillar thorns throughout the room.
Appearances
The Water Lily Siren makes her debut at the end of the Den of Water Lilies. When she is encountered, she wakes up and stretches.
In battle, the Water Lily Siren does not move, but she does attack by summoning thorn pillars and venus-flytrap minions. There are two switches to move the water-lily's pot to guide her to a sun-light area to distract the boss while she is bathing in the sun. Her leaves began to awaken showing a sign of weakness which Shantae must jump from each flower to reach and strike at that target.
Video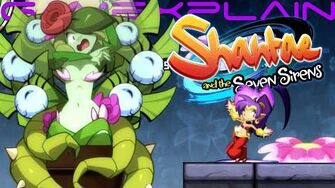 Gallery
Artworks
Sprites
Trivia
The Water Lily Siren seems to be the third smallest siren for battle sizes. When it comes to normal size, she seems to be tied with the Empress Siren for third smallest, being slightly smaller than the Coral Siren.
She is the only boss whose "hurt" animation can be seen without draining their HP. When struck, she wakes up and recoils in terror.

She is also the only boss to have two hurt animations in the game. During her death animation, her leaves collapse.

She is the first siren to not attack the player directly.
Community content is available under
CC-BY-SA
unless otherwise noted.